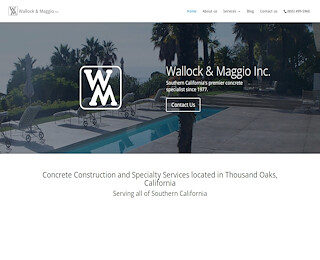 If your concrete driveway, walk, patio or other surface is worn, cracked or stained, don't replace it, have it resurfaced. Concrete resurfacing in Los Angeles is an easy and affordable option. Resurfacing can be accomplished using coatings or with the application of another concrete layer. These choices can turn an ugly area of concrete into a beautiful one.
Concrete Resurfacing in Los Angeles
Concrete resurfacing in Los Angeles can transform dull, worn or discolored concrete into a beautiful, new-looking surface. One of the most popular options is to place a new coating of concrete or polymer and then seal it with a sealing product. The first step is to repair any cracks or damage to the concrete. This can be done using specialized products depending on the specific type of damage that needs to be repaired. Even large cracks can often be fixed and then covered to provide a smooth, perfect finish.
Most concrete problems can be resolved with resurfacing. However, sometimes the damage is caused by a problem from below. If so, resurfacing the concrete won't provide the type of results that are desired. If the concrete is badly degraded and the underlying cement is damaged it may not be able to be resurfaced. A concrete professional will evaluate your concrete to determine whether resurfacing in Los Angeles is a viable option.
Improve the Look of Concrete
Many types of finishes can be applied to concrete, making it one of the most versatile of all materials. It has the strength and durability to last for many years and can take a lot of wear and tear. You can improve the look of almost any surface with concrete resurfacing options. You can add color, designs, lines and other decorative finishes to your concrete floors.
A polymer type of overlay is one way to improve the look of concrete. You can choose from a wide array of color choices and designs if you like. Sometimes a stencil or engraving will easily modify the look of the concrete. There are many decorative options available that will fit your needs and your budget.
Meet with a professional company that handles concrete resurfacing in Los Angeles. An inspection of the concrete surface will determine what options are available for repairs. You will be able to view various options for resurfacing and designing your surface without having to tear it up and start all over.
Concrete resurfacing saves you money because you won't need to remove the old concrete. As long as the concrete is still strong it can be fixed and resurfaced. You can turn a drab, dull concrete surface into a beautiful and appealing driveway, patio or walkway. An expert will help you choose the best options and then will professionally resurface the concrete to create an appealing new surface. Soon you will have an attractive surface that will be extremely durable. You can count on the experts at Wallock & Maggio, Inc. for all your concrete resurfacing needs in Los Angeles and nearby areas.